My experience in making public presentations began during my Masters program in Museum Studies at USC in 1998, when I started to present my research at national conferences. Because of my extensive study into the arts in Baja Norte, Mexico, I was asked to speak at several events in Tijuana about the border culture, which I did in Spanish. I continued to present my research throughout my doctoral study at USC at international conferences, and even afterwards while working as a museum professional. My public speaking experience also includes giving interviews to the press (television and radio) in Spanish and English, moderating panel discussions, lecturing in undergraduate classes at USC and in Greece, and teaching graduate courses.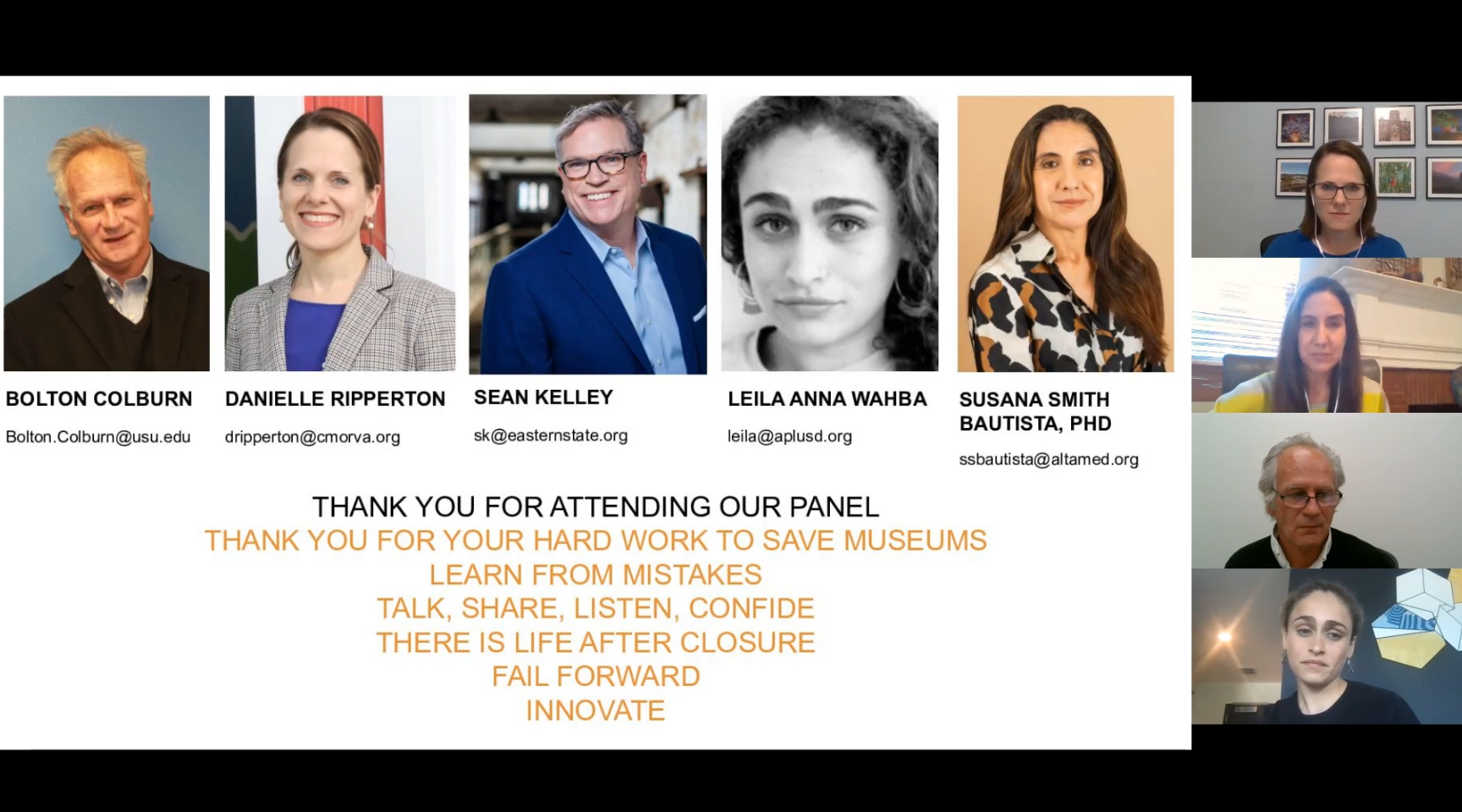 What Happens When Museums Close. American Alliance of Museums, AAMVirtual. June 7, 2021.
Change = Action/Time. Generational Activism in Chicanx and Latinx Art. Art of the State, Monterey Museum of Art, Monterey, California, January 8, 2021. Watch video on Vimeo
Participation in Post-Pandemic Museums. Museo Universitario Arte Contemporaneo, Universidad Nacional Autonoma de Mexico. Digital Museum. Citizenship and Culture, virtual conference. November 10, 2020. Watch YouTube Video
Museum Boards: Ethics, Transparency, and Public Scrutiny. American Alliance of Museums, AAMVirtual. June 3, 2020.

Museums on the Edge: Stories of Transformation and Failure. California Association of Museums, Los Angeles. March 6, 2020. Due to the success of this panel, it was repeated virtually on June 18, 2020.

Culture Club blog, by Camille Wong, "The Evolution of Museums: Susana Smith Bautista on Why Museums Need to Communicate." December 26, 2018. Read Interview
National Hispanic Media Coalition podcast by Brenda Rivas, Pasadena & Beyond – Museum of California Art (PMCA). May 22, 2018.
Listen to Podcast
Diversity Engagement in Museums: Social Work Education as a Case-in-Point. International Conference on the Arts in Society. University of California, Los Angeles. August 10–12, 2016.
PowerPoint Presentation
AirTalk on KPCC radio, hosted by Larry Mantle, With new audiences and tech, LA's museums evolving to stay relevant. April 14, 2016
Listen to Program
Re-Calculating: The Uses and Abuses of Technology in Museums. Second Triennial Museum Encuentro, Oaxaca, Mexico. March 18–20, 2015.
Museums and Digital Technology: Idealism and Pragmatism. Critique of Digital Reason. Statens Museums for Kunst, Copenhagen, Denmark. November 7, 2014.
PowerPoint Presentation
ArtTable Talks Tech: Institutions. Kayne Griffin Corcoran Gallery, Los Angeles. March 26, 2014. I moderated the panel with Amy Heibel, Emma Reeves, and Sarah Stifler.
Artifex: Art Effects Beyond Identity. Koplin Del Rio Gallery, Culver City, CA. May 18, 2013. I moderated the panel with artists Einar and Jamex de la Torre, Harry Gamboa Jr., Shizu Saldamando, John Valadez, and Chicano art collector Cheech Marin, on May 18, 2013. The panel aired on John Rabe's KPCC radio program OFF RAMP on June 8, 2013.
Placemaking in the Digital Age. Museum Computer Network Conference (Re:Making the Museum). Montreal, Canada. November 20-23, 2013.
PowerPoint Presentation
Situated Technology Praxis in U.S. Museums Today. International Conference on Technology, Knowledge and Society. University of California, Los Angeles. January 16–18, 2012.
Museums and Digital Technology: Implications for the Fisher Museum of Art. USC Fisher Museum Advisory Board, Los Angeles. June 11, 2012.
Museums and Social Capital in the Digital Age. Revisiting the Contact Zone: Museums, Theory, Practice. European Science Foundation. Linkoping, Sweden. July 17–21, 2011.
ESF Conference 2011 – poster
Lurking in Museums: In Support of Passive Participation. Digital Humanities. Stanford University, CA. June 17–22, 2011.
Inspiring Uses of Digital Media in Museums and Libraries: A Creative Inventory and Collaborative Analysis. Digital Media and Learning. University of California, San Diego. February 19, 2010. Co-presented with Anne Balsamo, Cara Wallis, and Maura Klosterman.
Museum Teen Websites, A New Space for Plurality and Discourse. National Communication Association, Chicago. November 12–15, 2009.
Museum Teen Websites blogsite
The Social Function of Museums in the Digital Age. International Conference on the Arts in Society. Istituto Veneto di Scienze, Lettere ed Arti, Venice, Italy. July 28–31, 2009.
PowerPoint Presentation
Narrativity and Visitor Meaning Making in Art Museums. Narratives in Health Communication, Persuasion, and Cultivation. University of Erfurt, Germany. July 26–27, 2008.
The Virgin of Guadalupe: How Cortes Brought the Apocalypse to Mexico. Avenue 50 Studio & Gallery, Los Angeles. March 30, 2006.
Latin American Photography from the U.S. Perspective. FotoSeptiembre 2005, Casa de la Cultura de Playas de Tijuana, Mexico. September 30, 2005.
The Flight of Culture: A Case Study of the Tijuana/San Diego Border. Borderlands: Remapping Zones of Cultural Practice and Representation, University of Massachusetts at Amherst, March 30–31, 2001; Keynote speech (in Spanish) at the 2nd Annual Conference of Northwestern Mexican Artists, Centro Cultural Tijuana, Mexico. November 23, 2001.
Contemporary Latino Photographers in Los Angeles. FotoSeptiembre 2000, Casa de la Cultura de Tijuana, Mexico. September 29, 2000.
Landscape Painting and the Formation of Mexico as a Modern Nation: Two Parallel Developments in 19th Century Mexico. Southwestern Regional Conference of the Popular Culture Association, Albuquerque, New Mexico, February 9–12, 2000; Art History Symposium of Scripps and Pomona College, Claremont, CA, February 13, 2000; Art History Symposium of the University of Minnesota, Minneapolis, April 28–29, 2000; Pasadena Museum of California Art, October 2003.